The time-honored British tradition of afternoon tea gets a dose of modern quirk at Sketch London in David Shrigley's The Gallery. One step inside the India Mahdavi-designed space, fitted out with perfectly plump, millennial pink tulip seats, a rose gold plated bar, pretty-in-pink velvet banquettes and brass table lamps and you'll no doubt feel as if you've been plucked off of Oxford Street and thrown down a rabbit hole.
Do your best to arrive earlier than your guest, giving you plenty of time to admire the 300+ David Shrigley sketches adorning the pink walls as you chuckle to yourself over Shrigley's dark wit and humor. In The Gallery's previous incarnation, Turner Prize winning artist Martin Creed had been invited to transform the restaurant as part of the establishment's long-term collaborative program of artist commissions.
Once you've seen a sufficient number of artworks, sit down and let the boozy tea wash over you. We recommend the unique Sketch Exotic Tea, where you'll find your serving staff expertly straining Sketch's own brand of Champagne over chai, vanilla or Earl Grey tea leaves over ice. Pair this with the impressive selection of over 30 teas from around the world, egg soldiers with Russian Oscietra Caviar, delicious finger sandwiches and as many petits gateaux as you can possibly indulge in.
At Sketch London, afternoon tea not only surrounds itself with art, it becomes an art form in itself.
Sketch London
9 Conduit St, Mayfair, London W1S 2XG, UK
+44 20 7659 4500
This article comes in cross-collaboration with our friends at Forbes.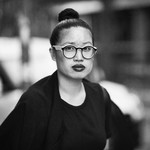 Jenny is Melting Butter's Founding Editor. She's NYC based via Melbourne, London and Amsterdam. Her hotspot recommendations have also appeared in Vogue Living, Domino Magazine, The Observer, ForbesLife, Belle Magazine, National Geographic Traveler Magazine, Trendland and Gotham Magazine.
(All images courtesy of Sketch London.)
The post Afternoon Tea Find: Sketch London appeared first on Melting Butter.