Peter Miller Books is a bookshop for anyone whose curiosity gets the better of them, and so it should. Located in Seattle's historic Pioneer Square neighborhood – characterized by tree-lined promenades accenting late-nineteenth century Romanesque Revival style architecture. Down a cobbled alley off downtown's Main Street, stands a converted industrial building decorated with an unassuming red sign that alludes to there being more than meets the eye behind this brick-façade. Through the old trade door, visitors are confronted with a contemporary wall of glass encasing this books and supplies shop that requires further entry behind a pair of reclaimed antique doors.
Peter Miller will most likely greet you into his eponymous emporium – sat at the back of the shop, under exposed beams and framed between tall bookshelves and magpie displays of design objects. The ambience is courtesy of a discerning suite of SR Klassiskt from Stockholm, Linas Jazz from Paris or Radio 6 Blues from Hilversum that play on the Tivoli internet radio, depending on the time of day. With nearly 40 years in the business, Miller's knowledge and devotion to curation is reflected in his inventory, selecting only the finest quality publishers to grace his shelves.
New titles range from design, architecture, graphics, landscape, urban design, residential and interiors as well as eye-catching tomes to rare and out-of-print imports. A must-do pilgrimage for the architectural aficionado while in the Emerald City, Peter Miller Books Seattle will have you exploring the shop from corner to corner, leafing through graphic classics such as 'Two-Dimensional Man' and European typography manuals; be seduced by the neat formation of mechanical pencils, utensils and international sketch papers before you catch the timeless lines of homewares from Skultuna, Sweden, Orskov Glassware from Denmark or the ticking of an Arne Jacobsen clock.
All passion and no pretention, there's a reason when dropping 'Peter Miller Books' in conversation between others in the know, "quintessential" and "institution" soon follow. Self-control will be tested – the Le Corbusier Stencil Set or Hermann Zapf's 1970 design collectible, 'About Alphabets', or both? What to buy won't be the only challenge – so will your phone camera trigger: a sign at the front door reads, 'No cell phones. None at all. Thank you.' A polite reminder curation extends from the physical to the sensory.
Peter Miller Books
304 Alaskan Way South
Post Alley
Seattle, WA 98104
+1 206 441 411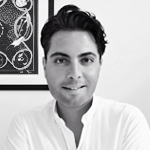 Jonathan is Melting Butter's Arts + Culture Editor covering all eye-pleasing things for Melting Butter's Arts & Culture pages. Being a contemporary visual artist and working in public spaces around the world as well as a freelance culture writer for sites and publications like FAD and London Calling, Jonathan brings a rare combination of talent from the worlds of editorial, conceptual art, design and lifestyle. Be sure to follow his hunger for both high and low culture on his Blog, Twitter and Instagram.
(All images courtesy of Peter Miller Books Seattle.)
The post Book Shop Find: Peter Miller Books Seattle appeared first on Melting Butter.