James Wise is pretty damn serious about coffee. Granted, he's also the 2017 London Coffee Master champion and has a history with coffee (including at the now-defunct China Plate Espresso in London). And now, at the helm of Hyde & Son Edinburgh – the café on the ground floor of apart-hotel Eden Locke – he's dead-set on making coffee king, from morning to night.
Using a state-of-the-art, programmable San Remo Opera V2 (the first of its kind in Scotland) coffee machine, Wise turns out a tight menu from long blacks and flat whites to cortados and filter brews. Volcano and Assembly Coffee are the blends of choice, while tea by Lalani, chai by Australia's Prana Chai, and hot chocolate by Australia's Mork Chocolate cover all other bases. A small selection of pastries—custard and jam donuts, or peanut-stuffed croissants—complete the food options. Wise wanted the tiny back-of-house space to function as a playroom for coffee creation, so bakeries 12 Triangles, Suki Bakes, and Grams supply the goods instead (the latter for gluten-free cheesecake).
The night component of Hyde & Son is a collaboration with the bar manager, Ben Stewardson, whose talent with cocktails fluctuates from inspired to 'mad scientist'. The cocktail offering is coffee-based, and Stewardson's concoctions are a blend of tremendous showmanship and clever style. The Black Magic is, as its name suggests, a curious combo that manages to work; fruity notes of mango and orange (juices) are heightened with passion fruit and muddled with ribbons of cucumber, imparting a vegetal earthiness to a sharp espresso shot. The Netflix & Chill inspires images of iced coffee, except that this one dances in a highball glass, nods to Mr. Black liquor, and has a pouch of popcorn paper-clipped to the lip of the glass.
The coffee station/bar is just one part in the apart-hotel's ground-floor space, which is peppered with foliage and seating nooks in which to lounge, sip and mull away the day. The eucalyptus green walls – perhaps a nod to the dining hall at Edinburgh's Palace of Holyrood House, which is decorated in a very similar shade – play off bar-to-ceiling shelves, stocked high with cups, coffee paraphernalia and bags of beans.
Hyde & Son Edinburgh
127 George St.
Edinburgh, EH4 1D
+013 128 52050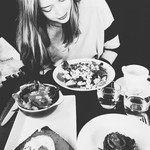 Riley Wilson is Melting Butter's Assistant Editor. A native Sydney-sider who grew up between Australia and the USA, with extensive travels throughout Europe along the way, she is also a freelance writer and editor, contributing to Broadsheet Sydney, The Sydney Morning Herald, and a variety of publications in Australia and overseas. She's deeply passionate about olives, oysters, postage stamps, and punctuation.
(All photos courtesy of James Wise and Hyde & Son Edinburgh)
The post Café Find: Hyde & Son Edinburgh appeared first on Melting Butter.