With the closure of Devon's Danks location in late 2016 came the call to reincarnate the venue elsewhere. Zacharay Tan took head chef Morris Baco to Barangaroo and Devon at Barangaroo Sydney was born, pairing much-loved favourites with a constantly developing environment.
Hanging orb lights, wood tones, and tables and chairs from the former site are paired with an accent wall of new blue tones. It's a space that sits somewhere between the industrial Barangaroo brief and Matt Woods' rustic one, from the linen draped above the kitchen peekaboo window to the peppering of greenery which offsets the evolving concrete jungle outside.
Unlike Tan's other venues, Barangaroo sports a katsu-sandwich bar turning out panko-crusted proteins enveloped in two slices of spongey white bread. Fingers of crunchy prawn are elevated with house-made yuzu mayonnaise and cabbage, while slabs of Korean fried chicken sandwich perk up with ssamjang sauce and kimchi mayo. The Dr Seuss is a charming offering; thick-cut bacon rests atop edamame-and-pea puree, alongside a fried egg; a cube of stringy potato hash; and a green-tomato-and-basil sauce.
Despite the heavy players on Tan's plates, the menu is light with fresh flavours and speedy service at the forefront. Cap the meal off with a matcha or hojicha soft serve or a coffee or a coffee (made with house-blended and roasted beans) to go.
Devon at Barangaroo Sydney
Shop 19, 200 Barangaroo Avenue, Barangaroo NSW
+61 2 9262 4660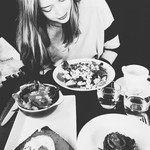 Riley Wilson is a native Sydney-sider who grew up between Australia and the USA, with extensive travels throughout Europe along the way. She is a freelance writer and editor, contributing to Broadsheet Sydney, The Sydney Morning Herald, and a variety of publications in Australia and overseas. She's deeply passionate about olives, oysters, postage stamps, and punctuation.
(Images courtesy of Devon at Barangaroo Sydney.)
The post Cafe Find: Devon at Barangaroo Sydney appeared first on Melting Butter.