Walking past Shozo Coffee in the Omotesando neighborhood of Tokyo, it's impossible not to stop and look. It might be the most picture-perfect coffee shop on Earth: a small wooden hut just big enough to hold a selection of pastries and drip coffee. Its understated charm exemplifies what we love about Japanese design and sensibility – the ability to make a big impact within a small space. Even if you're not in the mood for coffee, you'll feel drawn to stop and take a photo, and that's okay; nearly every other passerby does the same.
Shozo Coffee Store began in Tochigi Prefecture just north of Tokyo in 1988, and since then they've expanded to Tokyo. They serve easy-to-drink drip coffee plus a large selection of breads, scones, biscuits, and other pastries. Once you've secured your coffee, step outside and take a seat in the garden area;  it's an ideal spot for an afternoon of people-watching.
While the coffee and ambiance are close to unbeatable, perhaps the most exciting thing about Shozo Coffee Store is what you'll find if you meander down the path next to it: the coolest outdoor food and drink market around. It's called Commune 246, and it's got everything from a craft beer bar in a hut, to a vegan food cart, to a French-fry truck by a Brooklyn chef. It's truly a unique space in Tokyo for eats, drink, connection, and community, and Shozo Coffee Store is the gateway attraction.
Shozo Coffee Tokyo
3-13 Minamiaoyama Minato
Tokyo, Japan
(Images of Shozo Coffee Tokyo, by Dana deLaski.)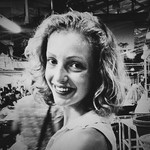 Dana is originally from Washington, DC, is now based in NYC, but is most excited when she's traveling. She's a street-food obsessed food and travel writer who spends her free time watching Anthony Bourdain reruns and exploring the nooks and crannies of her NYC neighborhood, Chinatown. Her heart is torn between Paris, the Greek Islands, Japan, and Penang, so her dream last supper would look something like a four course meal of sashimi, laksa, fresh grilled octopus, and a heaping plate of gooey French cheese.
The post Cafe Find: Shozo Coffee Tokyo appeared first on Melting Butter.