They've thought of it all at Eden Locke, Edinburgh's newest player on the boutique accommodation scene. Granola and tea? Got it. Gilded kitchenware and a cocktail kit? Yep. Extra-large towels? Check. Internationally accommodating powerpoints? You bet.
Guests are referred to as 'residents' and are greeted by 'hosts' upon checking in. (Hosts, that is, to the city; the team at Eden Locke want to make sure guests fully embody the 'living' brief, by offering curated guides to the city's goings-on and insider tips on where to eat, drink and visit.) Entering the six-storey, Georgian building, guests face a stone-topped bar and a tiered display of pastries from Edinburgh's 12 Triangles. This bar is home to Hyde & Sons, Eden Locke's cafe-by-day/bar-by-night; checking in is a matter of quietly signing some paperwork at the counter's far end.
This same first floor space is home to pockets of eclectic, low-slung chairs and unobtrusive lighting among lush greenery and a colour palette reminiscent of a modern day Garden of Eden. It's also home to the apart-hotel's health-and-wellness program, including yoga partnerships with local studios and teachers, and cultural calendar: think cocktail masterclasses, live music and professional development events.
What's most impressive is that the functionality of the apart-hotel's 72 rooms (which are divided into five styles: four studio types – 'bolthole' (read: basement), standard, Eden, mezzanine – and two one-bedroom spaces) is an extension of the Grzywinski+Pons design rather than a cause for compromise on its part. Minimalist rooms maximise space with clever storage and aesthetic detail, optimising creative self-sufficiency.
Tea by Australia's T2 and Rude Health granola wait in the kitchen; custom-made Kinsey Apothecary hair-and-body products adorn the bathroom; and the heritage windows, complete with gold latches, peek out onto the stylish George Street below. L-shaped couches, made specifically for Eden Locke, command the lounging space. A tilt to the tropical runs throughout, with canary yellow doorframes popping off powder-soft shades of blue, green and grey; it's a confident blend of high-end design and creature comforts in the heart of Edinburgh.
http://www.lockeliving.com/eden-locke/
+44 131 526 4190
Eden Locke Edinburgh
127 George Street
Edinburgh, EH24JN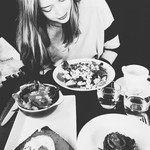 Riley Wilson is Melting Butter's Assistant Editor. A native Sydney-sider who grew up between Australia and the USA, with extensive travels throughout Europe along the way, she is also a freelance writer and editor, contributing to Broadsheet Sydney, The Sydney Morning Herald, and a variety of publications in Australia and overseas. She's deeply passionate about olives, oysters, postage stamps, and punctuation.
(All images courtesy of Eden Locke Edinburgh.)
The post Design Hotel Find: Eden Locke Edinburgh appeared first on Melting Butter.