The region of Los Cabos, Mexico is better known for it's "All-Inclusive" resorts with swim-up bars and fish bowl-sized margaritas, but that could be changing. Mar Adentro Los Cabos is an entirely new type of resort where less is definitely more.
Designed by famed Mexican architect Miguel Angel Aragones, Mar Adentro Los Cabos is a lesson in hyper-modernism with clean lines and white, modular buildings. The property features a meandering black reflective pool which functions as a literal mirror; the hotel seems to float on water. Mar Adentro has 200 guest rooms, all perfectly minimalist and designed with a remarkable amount of restraint. Rooms boast floor to ceiling windows, perfect for gazing out onto the dazzling Sea of Cortez and gracious terraces with white lounge furniture and deep soaking tubs. Those who do manage to leave the comfort of their rooms can indulge in a spa treatment, complete with personalized aromatherapy sessions at the futuristic wellness center, or while away the afternoon at the private beach club. Meals are served at Nido, meaning nest in Spanish. The structure is a literal bird's nest providing much-needed respite from the blazing Baja sun and is the perfect place for an afternoon cocktail.  Communal spaces at Mar Adentro are devoid of any unnecessary decoration and beautifully striking in their simplicity, letting the views and natural beauty of the area shine. The overall effect could feel sterile, but there is an amazing amount of warmth here, perhaps owing to the excellent service.
The architecture of Mar Adentro Los Cabos is certainly unique, but feels even more foreign in a region where traditional colonial-style hotels reign supreme. A design lover's delight, Mar Adentro is a treat for those who want to feel truly transported and inspired. This futuristic Mexican hotel is not to be missed.
http://www.maradentrocabos.com/ 
Mar Adentro Los Cabos
Paseo Malecón San José Lote 8, Zona Hotelera
San José del Cabo, B.C.S.
México. 23400
+52 624-104 9999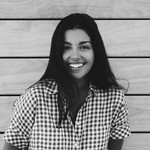 Dulci is an art director and recent West Coast transplant after 11 years in New York City. She's equally happy fly-fishing in the pampas of Patagonia or eating pan tomate around midnight in Madrid. She documents it all on Instagram and her travel site. Her dream is to live in Tokyo.
(All images courtesy of Mar Adentro Los Cabos.)
The post Design Hotel Find: Mar Adentro Los Cabos appeared first on Melting Butter.