Seasoned travellers to San Francisco or visitors wanting a more local experience of the City by the Bay have The Kimpton Buchanan to call their home away from home. Located on the corner of its namesake street and Sutter, surrounded by the neighborhoods of Fillmore and Pacific Heights, The Kimpton Buchanan in Japantown is just the right amount of distance away from the tourist-laden zones that hug the Bay. At the heart of America's largest and oldest Japanese enclaves, the residential feel in this part of the city is reflected in the hotel's ethos, nestled across the street from the landmark Peace Pagoda and characteristic Japan Center shopping complex.
Time your check-in accordingly and you'll be warmly welcomed by the daily complimentary Sake and Wine hour where hotel guests convene in the hotel lobby under an undulating light installation constructed out of a cumulus of whiskey bottles. A narrative of discerning materials travels through the hotel. From the lobby's paneled walls made from reclaimed whiskey barrel staves – treated by way of the ancient Japanese technique of shou sugi ban (the charring of wood) to the shibori-printed pillows in the guest rooms atop crisp linens; Eastern aesthetics meld with Western luxury to create a chic and sophisticated atmosphere. A palette of indigo, tan, white and ebony feature in all 131 rooms of The Kimpton Buchanan where walls are decorated with prints by local artists and metro tiles line the monochrome bathrooms with handsome black quartz countertops. Rooms offer generous window seats or private balconies that look into the hotel's private outdoor patio or out to the city's skyline to the South.
After whetting your appetite in the lobby, take to the streets and explore Japantown for authentic noodle houses and specialty Asian cuisine or hip eats a few blocks away in the Fillmore District. Mums – the hotel's eclectic in-house restaurant and bar  – is somewhat of a San Francisco institution, serving traditional Japanese and Continental menus between breakfast through to dinner, including its signature shabu-shabu hotpot. By the end of your stay you'll not only know where to go like a local, but where to stay like a local.
http://www.thebuchananhotel.com/
The Kimpton Buchanan San Francisco
1800 Sutter St, San Francisco 94115
(415) 921 4000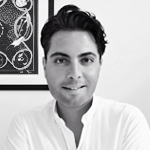 Jonathan is Melting Butter's Arts + Culture Editor covering all eye-pleasing things for Melting Butter's Arts & Culture pages. Being a contemporary visual artist and working in public spaces around the world as well as a freelance culture writer for sites and publications like FAD and London Calling, Jonathan brings a rare combination of talent from the worlds of editorial, conceptual art, design and lifestyle. Be sure to follow his hunger for both high and low culture on his Blog, Twitter and Instagram.
(All photos courtesy of The Kimpton Buchanan San Francisco.)
The post Hotel Find: The Kimpton Buchanan San Francisco appeared first on Melting Butter.