Find reimagined contemporary luxury in the discreet design details at the The Upper House Hong Kong.
Situated over 49 floors above Pacific Place in Admiralty, The Upper House hotel holds 117 rooms with both stellar views of Hong Kong's Victoria Harbour and the city's bustling neon skyline to the mountainous west. From the effortlessly attentive staff, to the paperless check-in and check-out that inspire the feeling as almost as if you are visiting a friends' stylish home.
It's the unassuming consideration for visual unobtrusiveness that makes the experience so memorable. Elegance and contemporary style is found in the hotel's design details and elements from the diversity in materials, including bamboo, solid ash flooring, natural timber, shoji glass, limestone and lacquered paper panels to name a few. Designed by Hong Kong's design wunderkind and accolade-laden Andre Fu, who's spatial and interior design for The Upper House includes a play on geometry, textures and shades, with varying cream and orange-hued tones seen throughout the building. Design inspiration has been taken from Asian and Western influences, including an excellent curation of site-specific and nature-inspired artworks.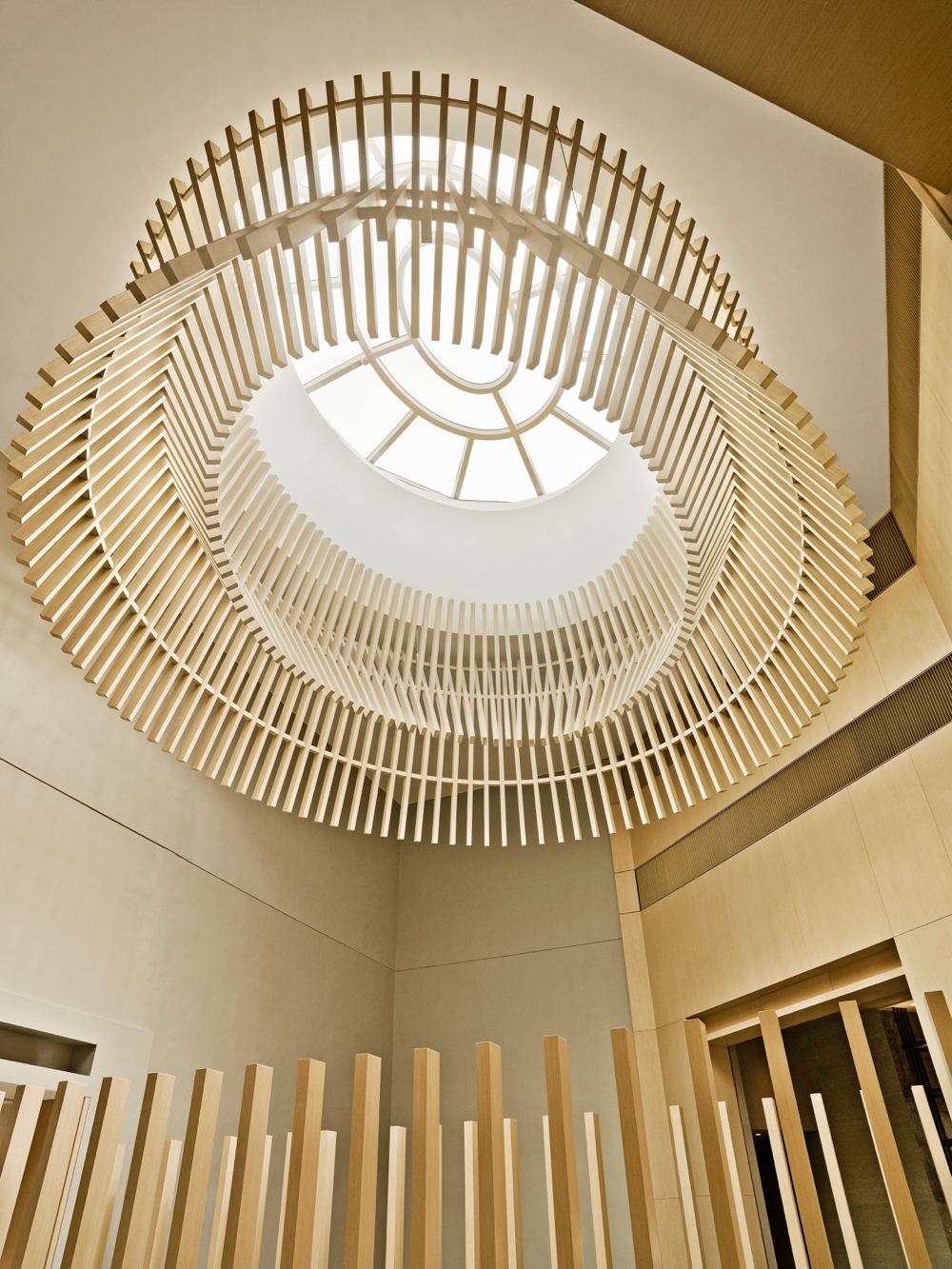 With over 400 commissioned works, The Upper House's Bedonia stone doorway façade and entrance is perhaps one of the most unassuming works, created by British designer Thomas Heatherwick, and which acts as a "Stone Curtain" providing a discreet and charming welcome to arriving guests. The hotel lobby is equally not as you'd expect; with a transparent "glass box" of floor to ceiling glass walls complimented by a 13ft-high textured nickel front door.
The inconspicuous details at the hotel take a slower pace into consideration; from the elevators' removal of a 'close doors' button option, to transparent room door numbers, and the various lounges offering a moment to relax with a stellar view of Hong Kong's skyline. Designer Fu explained to have "…purposely conjured a sense of tranquility throughout the design and ambience of the hotel." Here, the hotel offers a sense of serenity and calm inside, symbolising an 'upward journey' as a place to retreat above the bustling city.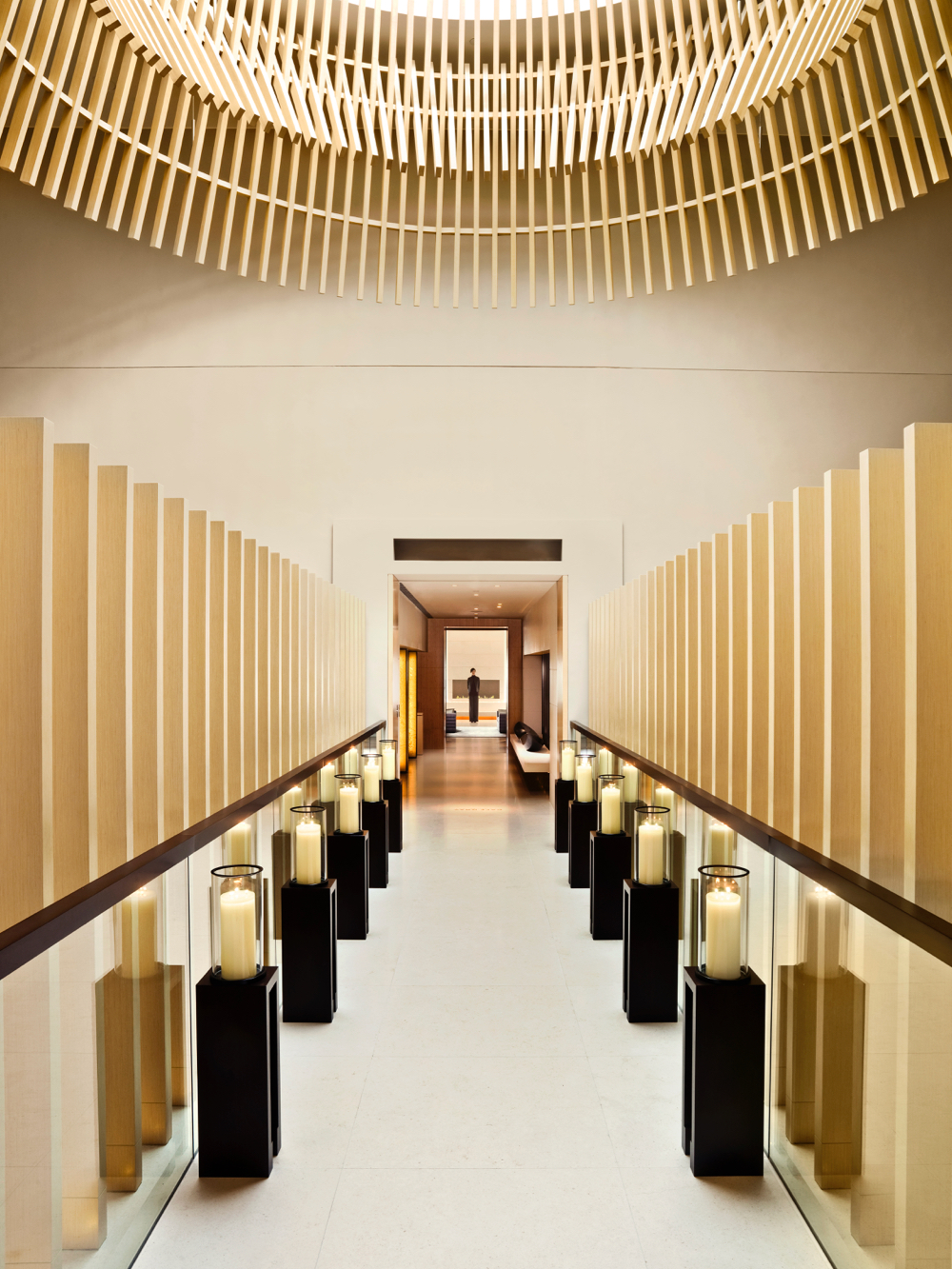 Post check-in, an initial escalator with red-hued ambience takes you to the second floor. Inspired by a Japanese red 'torii' gate (most commonly found at the entrance of or within a Shinto shrine), it reflects a slow and meditative transition into the next space. It's all about taking in the moments here, with each design detail carefully considered as an experience. Emotion plays a key role, where light and space set a natural and uninterrupted atmosphere.
In each guest room, Taiwanese artist Marvin Minto Fang's Woodgrain Sandstone block sculpture 'Cocoon' is found, inspired by the organic shapes of nuts and seeds and offering a smooth, monolithic figure to complement the room's geometric silhouette. On the 6th level lobby, find Italy-based Taiwanese sculptor Cynthia Sah's curvaceous 'Grain' sculpture, made with white Cararra Marble representing the Chinese philosophy of essential equilibrium. Representing both cultures, it's a mix of east and west that is also seen in the artists bronze 'Lifted' shapely sculpture located in the 49th floor's lift lobby.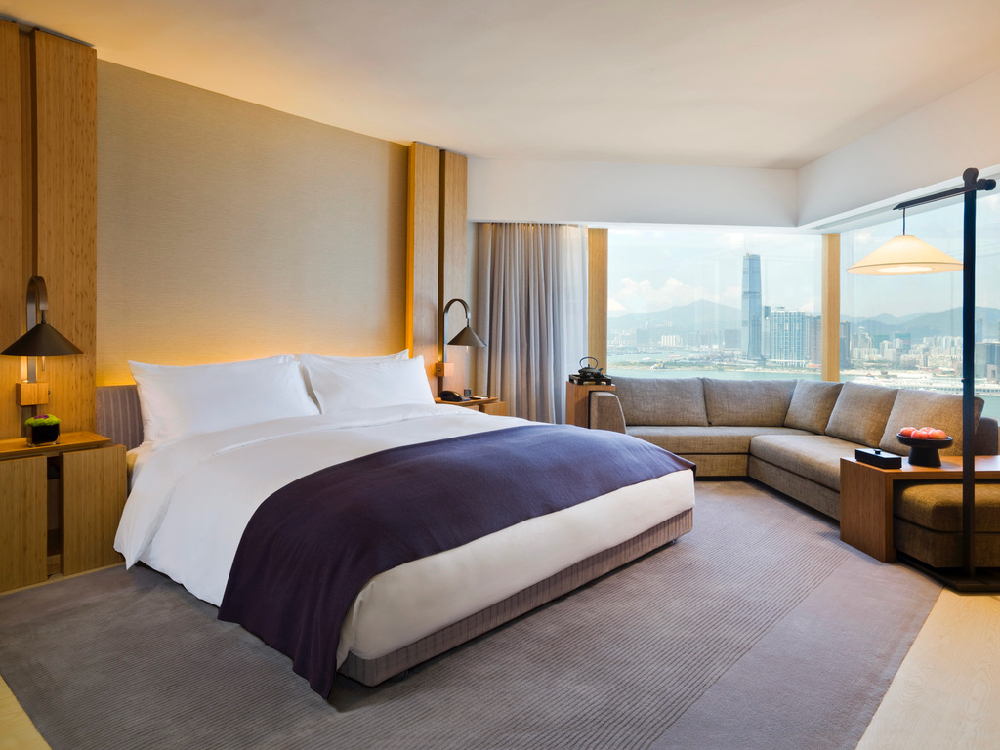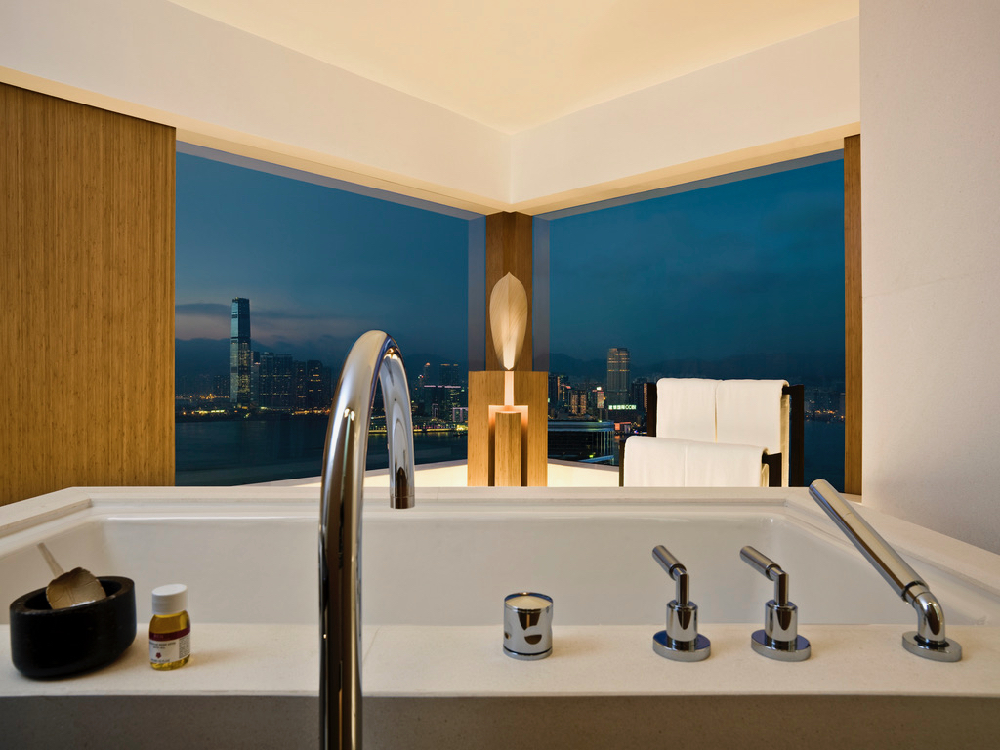 Japanese artist Hirotoshi Sawada's stainless steel wall sculpture 'Rise' is found in the 38th floor's Atrium, surrounded by the hotel's spectacular lighting fixtures and the natural light reflecting from the pool below providing a museum-like experience. Since opening 8 years ago, the hotel's artworks have remained the same, however perhaps providing the familiarity and comfort of one's own private residence.
The hotel's signature scent, Ginger Verbena, is found throughout the hotel and guest rooms, with beauty amenities provided by Bamford brand, chosen for it's organic formulas complementing the hotels wellness philosophy. It's impressively surprising to see such a generously spacious and minimalistic bathroom, simple and uncluttered and lined with Italian 'Perlato Svevo' natural limestone floors and Beige Turkish 'Terre d'Oriente' limestone walls.
On the 39th floor find The Upper House's bar and lounge alongside the hotels' European-inspired Cafe Grey led by chef Gray Kunz. Although dominated by brown tones and orange-golden hues, the refracting light bounces from the brass bamboo- shaped detailing and golden shadows evolve from the latticed wood features allowing for a subdued glow. The room is spacious and offers a sense of privacy for each dining table, all complimented by the spectacular views of Victoria Harbour, Lippo Centre, Convention Centre and Hong Kong's ongoing constructions. On the Breakfast menu, find the Upper West Breakfast including Smoked Salmon Scrambled Eggs with Salmon Caviar and Brioche, with fresh fruit and berries, granola parfait, quinoa porridge. A la carte includes Blueberry Dutch Pancakes with Devonshire cream, or the short-rib eggs Benedict on English muffin including a selection of 100% organic and cold-pressed juices.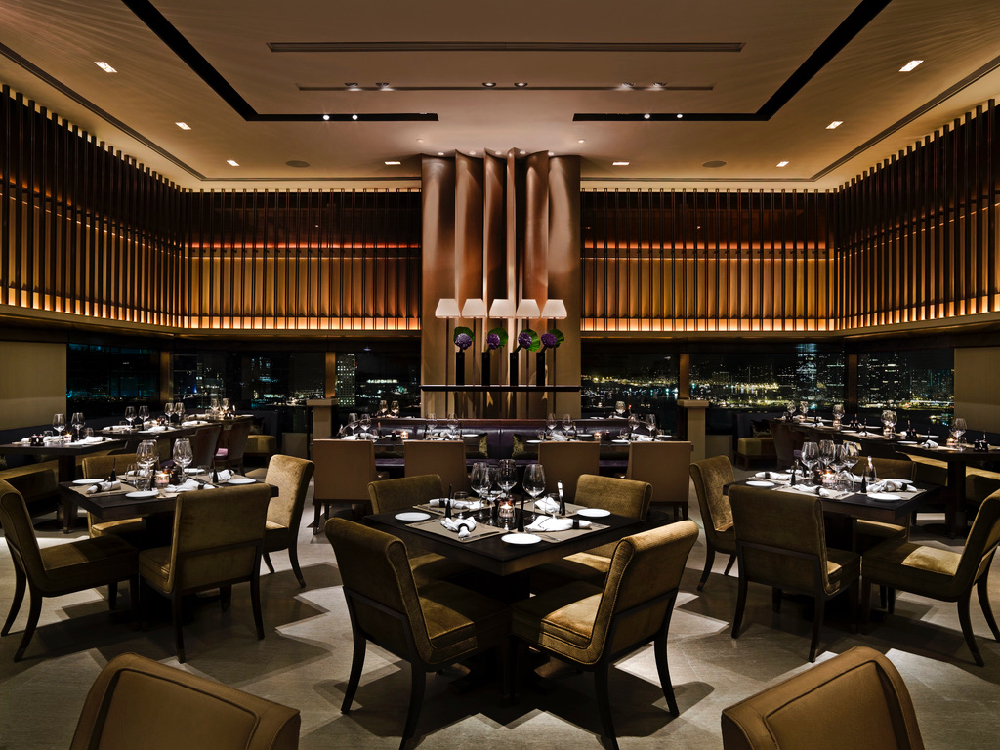 With the smooth charm of the The Upper House's contemporary and discreet design details ensuring an effortlessly chic and uncomplicated stay, the sense of relaxation is the new understated luxury.
The Upper House Hong Kong
Pacific Place, 88, Queensway, Admiralty, Hong Kong
Phone: +852 2918 1838
Via Forbes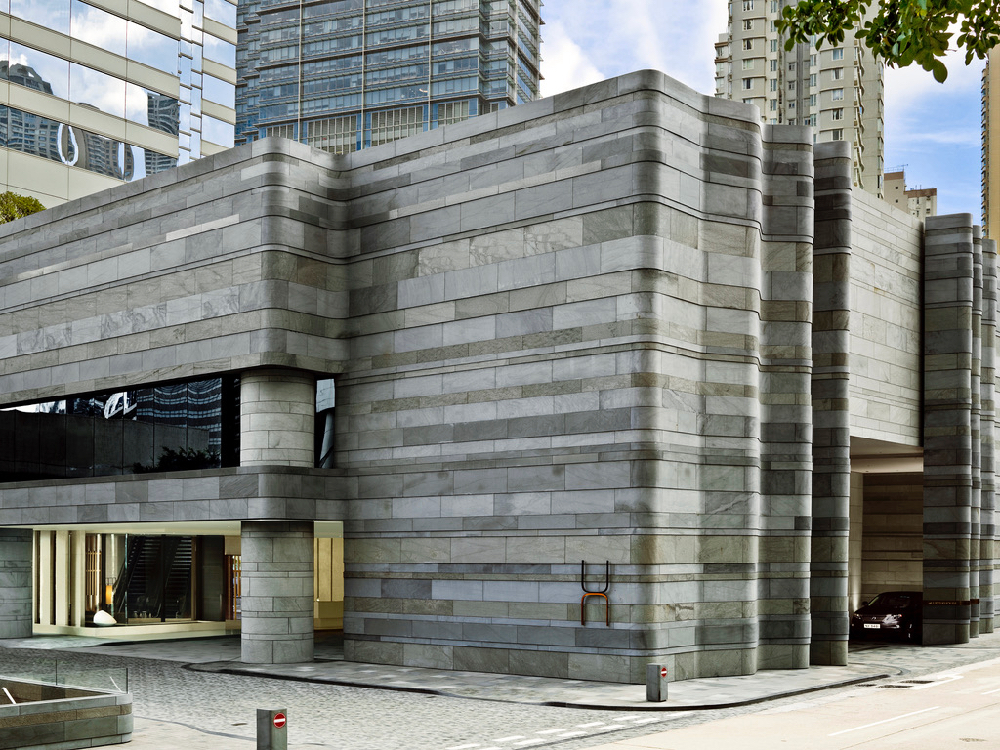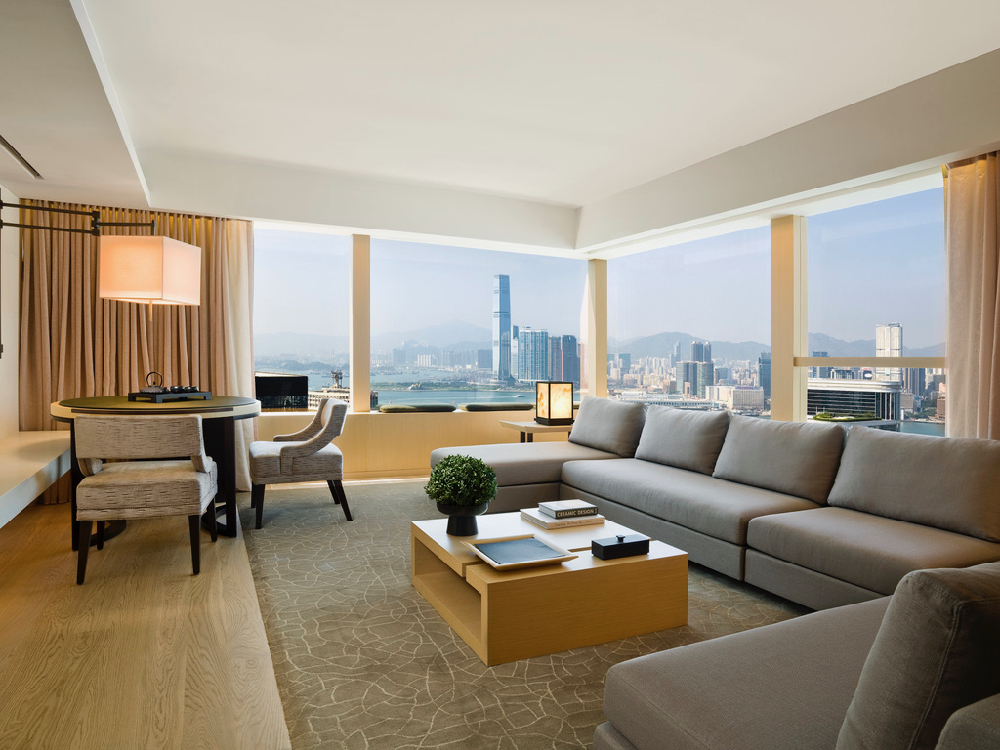 (Images courtesy of The Upper House Hong Kong)
The post Hotel Find: The Upper House Hong Kong appeared first on Melting Butter.