The food scene in New York's NoHo district can sometimes seem weighed down with hard-edged, buttoned-up fine-dining, which is why newcomer ATLA NYC, a serene temple to inventive, casual Mexican food, is a welcome change of pace.
Chef Enrique Olvera opened ATLA's older sibling, Cosme, in 2015, offering fresh and innovative Mexican cuisine. His newly opened ATLA offers a more casual take, with dishes that tend toward the light and vegetal.
To describe the interior as sleek and minimal may be somewhat of an understatement – a flawless symphony of cool, white terrazzo and off-black walls, the starkness is softened by an abundance of greenery branching over the corner tables and hanging in the soaring windows. This may not sound like a recipe for intimacy, but Atla achieves just that – stop by at 8.30 on a weekday morning, with couples whispering over conchas (Atla's take on the traditional Mexican sweet bread), causal breakfast meetings unfolding over split-pea tlacoyo, or NoHo locals starting their day with a quick café con leche at the shimmering terrazzo bar.
Speaking of early mornings at Atla, this isn't a hypothetical – Atla opens it's doors at 8am and serves breakfast, lunch and dinner. The all-day menu is surprisingly adaptable for all hours – the arctic chair-stuffed avocado is a superb way to start the day (as well as to end it), and the Chicharrón en salsa verde is perfect for a late breakfast or an early dinner – making this the most fluid menu around and breaking down traditional meal-ist stereotypes (how woke). Don't miss the light-as-air chia oatmeal.
ATLA NYC
371 Lafayette Street
NoHo, NY 10012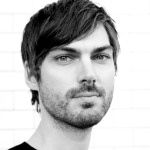 Benedikt is Melting Butter's NYC-based design editor. He's also a freelance architect, designer and writer with work that's grounded in a strong multi-disciplinary focus, encompassing architecture, interiors, product design, curation and visual communication. Right now, Benedikt's creative projects include an illustrated book, a site-specific art installation in the Manhattan streetscape, and several ongoing creative collaborations.
(Photography by Signe Birck, via Wallpaper.)
The post Restaurant Find: Atla NYC appeared first on Melting Butter.