If you're not careful you'll miss it, and boy would that be a shame. Bep Ga NYC opened quietly in March of 2017, and since they've been selling four Vietnamese dishes out of an almost signless shop. On the menu there's chicken noodle soup (phở gà), chicken noodle salad (phở gà kho), chicken and rice (Hội An cỏm gà), and chicken salad (gỏi gà), but don't let those plain few words fool you. The food is anything but plain – the chicken (the highlight of each dish) tasting of some Platonic ideal of chicken and each bowl overflowing with herbs, chilies, ginger, crispy garlic, and sauces rich with fish sauce, more ginger, and lime. To top it all off, be sure to douse whatever you're eating in muoi chanh ot – a lime/chili/salt/sugar sauce from Nha Trang that's good enough to drink. Pick up a bottle by the register before you leave.
Bep Ga is co-owned by André Saraiva of Cafe Henrie, Chef An Nguyen Xuan, and Heather Gee Szeto. If you've been to Cafe Henrie, you'll recognize Saraiva's aesthetic – clean, modern, and yes, pink. The recipes come from Chef Xuan whose parents are Vietnamese, and Gee Szeto runs the daily operations. All in all, Bep Ga is nearly perfect in its simplicity. The exterior is nondescript, the tables are few, the decor is spare, and the menu is short, but when reflecting on that chicken that tastes more like chicken than any chicken you've had before, it's clear that simple, in this case, is best.
Bep Ga NYC
70 Forsyth Street
New York, NY 10003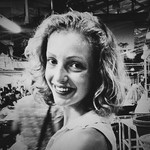 Dana is originally from Washington, DC, is now based in NYC, but is most excited when she's traveling. She's a street-food obsessed food and travel writer who spends her free time watching Anthony Bourdain reruns and exploring the nooks and crannies of her NYC neighborhood, Chinatown. Her heart is torn between Paris, the Greek Islands, Japan, and Penang, so her dream last supper would look something like a four course meal of sashimi, laksa, fresh grilled octopus, and a heaping plate of gooey French cheese.
(Feature image by Dana deLaski, full interior photo courtesy of Bep Ga NYC, all other images by Dana deLaski.)
The post Restaurant Find: Bep Ga NYC appeared first on Melting Butter.