Discreetly tucked away off Bowery on Bleecker, Bessou NYC warmly glows. Exposed brick and soft wood accents are illuminated by light from petit candles, the kitchen, and a wide, paper chandelier hovers over the dining area. Complimentary tea is poured and food is served on rustic pottery: Bessou balances homeyness and elegance effortlessly.
Maiko Kyogoku opened the restaurant in 2016, offering composed, unpretentious, and interesting Japanese food. Chicken karaage is perfectly fried and slightly spicy while the beef tataki salad is fresh, bright, and herbaceous. The crispy rice has a generous offering of yellowfin tuna, wasabi aioli, and nori oil, then lightened with cucumbers. Each plate is complex, carefully considered, and introduces unique ingredients in accessible fashion. Bessou shares great food with such honesty and happily welcomes its diners into their home.
Bessou NYC
5 Bleecker St.
New York, NY 10012
+212 228 8502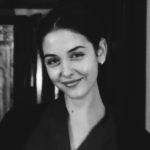 Becca is a creative brand strategist living in New York. She's worked for brands like Alexander Wang and Proenza Schouler and is a graphic designer, photographer, baker, and tequila connoisseur in her spare time.
(All images courtesy of Bessou NYC, shot by Michelle Min.)
The post Restaurant Find: Bessou NYC appeared first on Melting Butter.