In the heart of Shoreditch lies Burro e Salvia, the closest possible fresh, authentic Italian pasta eating experience you will have without actually travelling to Italy.
Part Italian-inspired pastificio and part dine-in café, Burro e Salvia (Italian for 'butter and sage') offers visitors a cultural experience in fresh pasta making. Opened in the spring of 2013, Gaia Enria, a highly skilled sfoglina (pasta maker), wanted to bring a little piece of her Northern Italian roots to Redchurch Street. Upon entry into the former gallery- turned-pasta deli, you will find a large display of different types of fresh pasta and Gaia's young sfogline happily creating this Italian staple we all know and love.
The shop is casual and informal with an at home feel, and the perfectly al dente dishes are simple, made with passion and a hint of nostalgia. Their restaurant menu and pasta fillings change with the season, using only high-quality ingredients from local British suppliers and Italian products.
Pick up a takeaway box of fresh tortellini, tagliatelle or cappelletti, take a pasta making class, or dine in the cosiest 'tasting corner' with a bowl of their signature pasta: Agnolotti Cavour (beef, pork and spinach filled ravioli, butter and sage sauce) and a glass of red from Montepulciano (for £ 1.00 extra, add a mountain of grated 24-month Parmigiano Reggiano).
http://www.burroesalvia.co.uk/
Burro e Salvia London
52 Redchurch St.
Shoreditch, London E2 7DB, UK
+44 20 7739 4429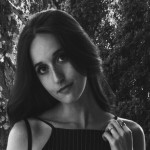 Riley is a graphic designer and travel writer presently living and working in Toronto. Currently making her way through the graphic arts world with a strong interest in layout design and a passion for minimalism. Riley is always planning her next visit abroad, seeking out the hidden gems in every city and sharing her findings on her website for curated city guides, Travelling Again.
(Images courtesy of Burro e Salvia London. Feature image via DOMUS)
The post Restaurant Find: Burro e Salvia London appeared first on Melting Butter.