The cool kids behind Hot Mama Hot have brought something new to the eclectic and cultural fusion that is Amsterdam's Zeedijk and boy, it does not disappoint. With its prime location in Amsterdam's Chinatown, Dum Dum Palace Amsterdam specialises, unsurprisingly, in Asian cuisine. But when you're surrounded by a plethora of the city's finest Asian eateries – many of which have been passed down from generation to generation – you need to stand out. And when it comes to stylistic choice, that's exactly what Dum Dum Palace does.
Having borne a catering company out of a sheer enthusiasm for great food (and, perhaps, the by-product of a very creative resume), the Hot Mama Hot guys know how to make a concept work. An exposed brick wall brings a modern, industrial twist to traditional wooden paneling, a contrast echoed in the singular hanging light bulbs that protrude through elevated greenery. With a modest touch of red lighting, the space oozes a cozy yet vibrant vibe. The open kitchen works in tandem with the closely-aligned tables to create an effortless buzz of excited chitchat as patrons scan the menu – and watch the kitchen – with delight.
The hotspot has fast become synonymous with its Panda Bier, a light, malty cleanser that accompanies Dum Dum Palace's Asian fusion dishes. From their unique spin on classic buns and dumplings, to more experimental Filipino ceviche and steak tartare, Dum Dum Palace's tapas style menu caters for those who can't decide on one option.
Proving that with great passion comes great success, Dum Dum Palace brings a dash of innovation with a side of Tom Yam Collins to one of Amsterdam's most diverse districts.
Dum Dum Palace Amsterdam
Zeedijk 37
1012 AR Amsterdam
+31 20 304 4966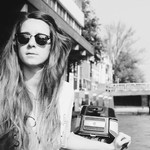 British expat who relocated to Amsterdam almost 4 years ago to study; the plan was to stick around for a year but I accidentally fell head over heels for this handsome city and his irresistible charm. Peanut butter and IPAs make my world go round, my favourite Dutch word is handschoenen (gloves) – literally, hand shoes – and one time I auditioned to play a zombie extra in the movie, World War Z.
(Images courtesy of Dum Dum Palace Amsterdam.)
The post Restaurant Find: Dum Dum Palace Amsterdam appeared first on Melting Butter.