Foxlow London is that rare kind of place where everything just 'works' – everything from the smart and understated entrance, right down to the beautifully printed menus – and we haven't even got to the food or interior design yet.
The decision to relocate from its smaller, North-East premises in May to the heart of bustling Soho was bold and astute. Founders Will Beckett and Huw Gott, of Hawksmoor fame, have managed to preserve all the communal charm of dining in a local neighbourhood restaurant and transport it to one of London's busiest and most tourist-trodden districts. Which, considering Soho's recent rapid gentrification (and sterilisation), is a sight for sore eyes.
The interior is understated yet self-assured. Conceived by Macaulay Sinclair, who is also responsible for the no-nonsense chic of Caravan Bankside and Pittcue, the teal and putty-pink panelled walls and large-scale chequered floor give a cheeky kitchen parlour vibe. The undisputed star is the U-shaped bar with a diner-style illuminated canopy which brings a downtown edge to the old English aesthetic. Dark wood tables and chairs, blue leather booths and low lighting add to the intimate ambiance. Voyeurs can take a seat at the Terrazo stone-topped window counter and take in the frantic Soho pace.
Like Hawksmoor, Foxlow indulges in a real love of quality British produce, with various steak cuts sourced from a number of small British farms, with salmon and anchovies supplied by native fisherman. Executive chef Lewis Hannaford has created a concise but well-balanced menu which offers a choice of snacks and starters, seasonal dishes, chicken, steak and sides. Carnivorous highlights include the pork and panchetta meatballs, fried chicken served with habanero vinegar, apple and fennel slaw and the flat iron steak. Salad lovers will rejoice at the masterful dressing of the kale, avocado and fresh herb salad.
If you're lucky enough to find yourself in close proximity of this charming eatery on a regular basis, it's worth noting the free corkage on a Tuesday and invitation to bring your own beer every Monday. Making Foxlow a weekly ritual – now there's an idea.
https://www.foxlow.co.uk/restaurants/soho/
Foxlow London
8-10 Lower James Street, Soho, London W1F 9EL
+44 20 7680 2710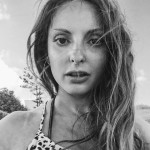 Jodie is a style and travel editor who lives in London but considers herself a citizen of the world. Between adventures, she produces travel, fashion and culture content for established brands and inspiring publications and platforms including COS, Junko Journal and Tate.
(All photos courtesy of Foxlow London.)
The post Restaurant find: Foxlow London appeared first on Melting Butter.