The three block stretch of Flinders Lane from Spring Street to Swanston Street has become Melbourne's golden row of fine casual dining. Kisumé Melbourne is yet another brilliant example of Asian food served and set in an Australian way.
Chris Lucas opened Kisumé Melbourne in May 2017 with an appreciation for New York style sushi houses in mind. The menu features a range of omakases to suit most budgets. There are Japanese classics served with a twist such as chargrilled edamame with sea salt, shiso flour and garlic oil while crispy pork kimchi gyoza is served under a bed of lettuce and balsamic glaze. Dishes are designed to be shared and match the assortments of sushi and sashimi. Kisumé has a certain seclusion and modesty. The charcoal walls, evocative portraits and concrete ceilings contrast the oak floors, clean bamboo surfaces and sushi knives on display.
Chef Joshua Bedell and his team dazzle with their skills as they cut, roll, clump and plate. Look to them during any lull in conversation. Go to Kisumé for a sense of occasion and escape in the middle of Melbourne.
Kisumé Melbourne
175 Flinders Lane
Melbourne, Australia 3000
+61 3 9671 4444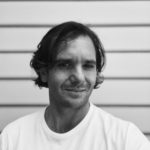 Mark Casagranda is a freelance writer working out of Melbourne who specialises in travel writing and creative non-fiction. He has a passion for surfing which has taken him to some remote parts of the world.
(All images courtesy of Kisumé Melbourne.)
The post Restaurant Find: Kisumé Melbourne appeared first on Melting Butter.