Downtown Manhattan is truly a mélange of people. From Canal Street to Chinatown to City Hall, the culture is so diverse that few restaurants reflect its dynamism in quite the same way as Lalito NYC.
Chef Gerardo Gonzalez opened Lalito in the fall of 2016, capturing the indiscriminate environment of his neighborhood and channeling it into colorful, energetic food. The vegetable-heavy menu ranges from curried chickpea huaraches with poppy seeds, feta, and watercress for brunch to a chile-hazelnut oil-drizzled 3.5-ounce baby steak for dinner, all intended to be shared. The food resides predominantly in Mexican cuisine with inflections of Japanese and Middle Eastern influences, reflecting the diversity of the neighborhood.
The restaurant itself is like a lounge-y diner, with long, yellow banquettes and lots of open space for the sound of close friends chatting to travel. The place is teeming with familial, fun energy from their Monday night Très Leches buffet dinner-dance parties to the bathroom playing "Waiting for Tonight" while LED lights twinkle. Go to Lalito to brighten your day during jury duty and beyond.
Lalito NYC
104 Bayard St.
New York City, 10013
+646 998 3408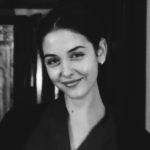 Becca is a creative brand strategist living in New York. She's worked for brands like Alexander Wang and Proenza Schouler and is a graphic designer, photographer, baker, and tequila connoisseur in her spare time.
(All images courtesy of Lalito NYC, shot by Paul Barbera)
The post Restaurant Find: Lalito NYC appeared first on Melting Butter.