If you need to find refuge and calm amongst the commotion of Murray Hill, slide into Oka NYC – a new modern izakaya by Chef John McCarthy. Hoping to balance the essence of the izakaya with innovative cuisine, Oka's food reflects the ease of the environment; shifting with the seasons, complimenting the sakes offered, and articulating, in a refined manner, innovative yet friendly flavors.
Oka joined the diverse culinary scene of Murray Hill in August of 2017, honing in on the Asian elements of Chef McCarthy's menu at The Crimson Sparrow in Hudson. The plates show his training at wd~50, but the atmosphere is open and breathable, allowing you to spend time with a friend, sampling plates like edamame salad with a shrimp cracker and yuzu-wasabi or beef tartare with gochujang, pine nuts, shiitake, and a quail's egg while sipping sake from the curated list from Chef McCarthy who is also a certified sake sommelier.
Like the food, the room appears simple, but is teeming with details that are revealed once you sit down. The white painted brick allows for an ease and approachability, but, as your eyes continue to wander throughout the room, the lines' orientations become more complicated as the walnut bar comes into view. As a whole, the space is welcoming, but soothing, perpetuated by the high ceilings and large windows opening the izakaya onto Third Avenue.
After having a sensory overload at incredibly exciting Dover Street Market or spice market Kalustyan's, stop by to find some calm while sipping on refreshing sake and eating sophisticated bowls and plates at Oka.
Oka NYC
439 3rd Avenue
New York, NY 10016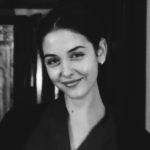 Becca is a creative brand strategist living in New York. She's worked for brands like Alexander Wang and Proenza Schouler and is a graphic designer, photographer, baker, and tequila connoisseur in her spare time.
(Images courtesy of Oka NYC.)
The post Restaurant Find: Oka NYC appeared first on Melting Butter.