When in Hong Kong, brunches seem to be quite an event for the weekend, where it's a time for many to relax and rewind over a long degustation meal. Here it lasts for hours over never-ending champagne and long conversations. The Optimist Hong Kong is one of the best places to situate oneself for a classic weekend brunch or evening dinner. With an absolutely energetic and lively atmosphere, warm and friendly staff, and talented chefs at the helm for a Northern Spanish grill-focused menu. Here, inspiration is taken directly from Castiglia, Basque, and North Galizia to name a few.
The Optimist presents Spanish style of tapas, with bread baked fresh daily and their charcoaled options baked in the Josper charcoal oven, a rarity in the city where only two exist in the whole of Hong Kong.
The vibrant Mediterranean interior of The Optimist presents sectioned tables with transparent wooden latticed booths, industrial concrete flooring, gold and white lampshades with tropical bird illustration artworks hung on each of the bright turquoise walls, providing the feeling that you are certainly immersed in their "created" Spain with a luxe twist. Being situated on the main Hennessy Road is almost forgotten, as Bamboo blinds unwind over the light-filled glass window facade and you remain in The Optimist world.
Upbeat music filled the restaurant like a Spanish fiesta, with soul and funk from James Brown to Al Green and Marvin Gaye, selected by an Ibiza-based DJ and their ongoing music collaborator.
Executive Chef Alfredo Rodriguez Sangrador brings 14 years of experience in Spanish cuisine, he himself working in Madrid at Lobby Market, La Lumbre del Cacique and the Michelin-starred Kabuki Wellington. Whilst Head Chef Matthew Hoskins' background working as a chef in the Caribbean has allowed him to approach the menu with diversity and experience, sourcing ingredients locally where possible.
Immediately welcomed by the genuinely informed and knowledgeable staff, Restaurant Manager Guzman Vereda had a great sense of humour and conviviality with pride and knowledge to match. Coming from his hometown of Madrid and after several years living and working in various cities abroad, it paired for his strong background in hospitality.
Spending an afternoon or evening in The Optimist world, you won't be disappointed.
The Optimist Hong Kong
239 Hennessy Road, Wan Chai, Hong Kong
+852 2433 3324
(This article comes in partnership with our friends at Champ Travel.)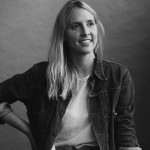 Joanna is the co-editor and founder of Ala CHAMP Magazine, a London and Tokyo-based biannual printed publication focused on curiosity and investigations into creativity and cultural insight. She is Tokyo-based, and co-founder of agency Champ Creative where she is Art Director and Producer, and is a contributing writer for various publications in travel, art, architecture and design.
(All photos courtesy of The Optimist Hong Kong. Feature image courtesy of Style by Asia.)
The post Restaurant Find: The Optimist Hong Kong appeared first on Melting Butter.