It might be hand-picked chanterelle mushrooms, dressed with a delicate garlic gloss and thin slices of raw red onion atop local bread. It might be slivers of pig's ear, fried to immediate crunchiness and served – snack-style – alongside strips of crackling. Or it could be a huge chunk of beef pie topped with pillowy puff pastry.
Any of the above would likely suffice as a description of inspired Scottish food, but especially so at The Scran & Scallie, a locals-first public house and restaurant in Edinburgh's Stockbridge neighbourhood. Executive chef and owner Tom Kitchin wanted to create a restaurant where he could bring his 5-chitlin brood and still eat quality, considered meals. Thick, rich slices of house-cured salmon are upped only by rounds of pickled cucumber and a lemon cheek; the yellow, haddock kedgeree, with pearl barley instead of rice, is brightened with the yolk of split poached eggs and chunks of apple.
Floor-to-ceiling windows bring the roadside ambience – lush greenery of parks nearby; ornate houses and architecture – inside, where shades of tartan play against exposed wood and white-washed brick. The space blurs the line between rustic and Scandi-cool, with mismatched chairs (a token few draped with furry pelts) and a medley of textiles.
And it's all very Scottish, if plaid and hospitality are anything to go by. The restaurant's team are well-informed, warm and generous with their time. There's an immediate and genuine familiarity, with patrons spouting hearty guffaws and – if you're lucky – a guitar. In summer, when the sun doesn't set until the clock hits double digits, hours melt away by aid of a colourful drinks menu (stocked with Scottish beer and an eclectic cocktail offering) and, just maybe, a finger of mousse-like cheesecake, dressed with Scottish strawberries and chunks of caramel.
The Scran & Scallie
1 Comely Bank Rd
Stockbridge, Edinburgh EH4 1DT
+44 131 332 6281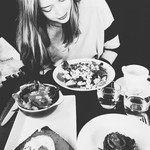 Riley Wilson is Melting Butter's Assistant Editor. A native Sydney-sider who grew up between Australia and the USA, with extensive travels throughout Europe along the way, she is also a freelance writer and editor, contributing to Broadsheet Sydney, The Sydney Morning Herald, and a variety of publications in Australia and overseas. She's deeply passionate about olives, oysters, postage stamps, and punctuation.
(All photos courtesy of Marc Millar and The Scran & Scallie Edinburgh)
The post Restaurant Find: The Scran & Scallie Edinburgh appeared first on Melting Butter.